Alfresco Dining
The great Aussie summertime is upon us! With weeks of warm, sun-drenched evenings stretching into the horizon, one of the best way to take advantage of this time of year is by hosting and dining your guests outdoors. But how does one appropriately cater this event to make this open-air experience a success?
Once you have brought the indoors out with soft furnishings, table-cloths and fairy lights, you will need to give some serious thought to a lavish outdoor catering menu that will suit the mood, the occasion and leave your guests wanting some more!
Let me first state that I am OBSESSED with outdoor entertaining. There is something magical and intoxicating about spending a wonderful evening/night outside (at a private home or a venue), sipping champagne and eating freshly catered delights. So whether the occasion is a corporate event, Christmas party, a birthday celebration, a wedding or any reason for a party, event catering is about making this occasion stand out!!.
Let's begin by setting the scene: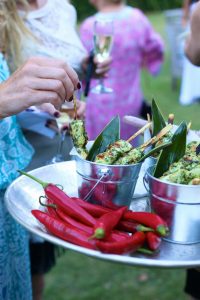 Have a cocktail du jour. Greet your guests with a crisp, fresh drink. An Aperol Spritz or some iced Spanish Vermouth will be very welcomed by all… or we can fancy it up with white peach martinis or some mango mojitos… the options are endless.
Now for the catering:
While your guests are arriving, mingling and taking in the spectacular scene around them, offer them some light canapes. The emphasis is on light my friends. Over the years I have seen well meaning hosts live in fear of underfeeding guests and offer wayyyy too many options of heavy finger foods, leaving guests with little space to enjoy the meal that awaits them. Crispy tapioca crackers lightly topped with fava hummus and pomegranate jam or a sampler of our favourite Holy Goat Cheese topped with candied sweet potato.
When it comes to the main catered event, there are several options that we suggest:
First there is a sit down dining experience with shared platters. These are optimal for al fresco dining. Opt for colourful Mediterranean starters, cured fresh fish, light spreads and artisan breads. Follow up with freshly cooked lean meats or whole cooked vine leaf wrapped fish, lush salads or light summer pasta dishes. The options are endless. The rule of thumb is "more of less" and "keep it light".
If you want to keep your guests mingling and moving, you can opt for a stand up dinner that is passed around to your guests. This way your guests will be kept fed whilst socializing and enjoying their festive drinks!! One of our favorite things is BBQ canapes. They are substantial, fresh and hot off the grill. From chimichurri lamb cutlets, to bò lúc lắc style eye fillets, to cinnamon and date infused wingettes… the delicious options are endless (and you don't need to use more than 1 hand to eat them!). You could even go casual (yet impressive) with passed around ground brisket burgers in beetroot sliders, or double smoked mini hot dogs in milk buns with the works!! That can always go down with some sampler boutique beers and crispy fresh lotus fries.
We hope these outdoor dining catering tips help you to plan the perfect event for that special occasion.
If you would like us to help you plan and execute your next alfresco dining event in Sydney or surrounding areas, please CONTACT US. We look forward to hearing from you!!